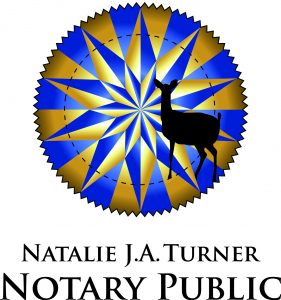 A seal is a device for making an embossment on paper, and the word 'seal' also informally describes the impression made. Seals were used in the earliest civilizations, and notaries still use them today.
In England and Wales, each registered notary has an individual personal seal, registered with the Faculty Office and the UK Foreign and Commonwealth Office, which includes the notary's name, designation and usually a pictorial emblem (often an animal – as found in many seals from Ancient Greece).
My seal includes a picture of 'Petal' the muntjac. Petal was originally a wild deer, but she was sadly hit by a car and left for dead at the side of the road. Her front leg was badly shattered and had to be amputated after we picked her up. However, after treatment and a lot of care at home, she is now fully recovered and enjoys a life of luxury at home with us in Swaffham Prior. She lives in the garden, with Pippy (another rescued muntjac), although she comes into the house whenever the opportunity arises! She is named 'Petal' due to her fondness for eating all of our beautiful flowers: roses, azaleas and agapanthus being her favourite! Our four cats adore her, and they can often be seen playing in the garden together.
She is a much loved member of the family and her image now appears on paperwork all over the world.